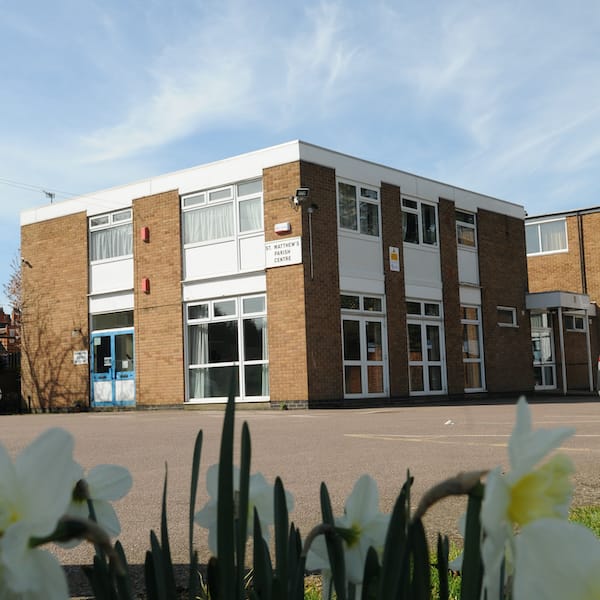 Available for hire

These are excellent premises, opened in 1968, owned and used by St Matthew's Church. We offer well-heated rooms with tables and chairs. There is a
fully-equipped kitchen. A programme of modernisation is in hand. A toilet for the disabled and baby changing facilities are available.

Our premises are suitable for a variety of purposes during the day and evening, including such activities as yoga, dance, society meetings and lectures.
Arrangements can be made for social events and
parties (but not discos). The grassed area may also be used for outside events. Please come and look at our building and you will receive a warm welcome.

St Matthew's Parish Centre is reopening for groups as covid-19 restrictions allow

A brief summary of the new procedures in place:
| | |
| --- | --- |
| | You may only enter the Parish Centre if you are part of a pre-booked group or have an appointment at the Office |
| | Visitors to the Parish Office will be by booked appointment only |
| | Post Covid-19 procedures will be written and emailed to parish centre users to sign that they understand and will abide by them. They will also be in poster form in each room and the foyer |
| | Patrons must enter by the main entrance, and exit by the door in the room booked |
| | Four sanitising units are provided in the foyer with requests to use on arrival, during the visit, before and after using the toilets |
| | Face coverings are mandatory within the Parish Centre |
| | Trace and Test information must be completed for each group |
| | Chairs and tables used are to be wiped down wearing gloves with the spray and disposable paper provided by the Parish Centre and found in a box in each room |
| | Booked groups are asked to bring their own cups etc for refreshments |
| | Toilets will be used on a 'one in, one out' basis |
| | The Garden Room may have a maximum of 20 people |
| | The Main Hall may have a maximum of 40 people |
| | Government notices about social distancing, face coverings etc are placed around the building and must be adhered to |

Facilities

Main Hall (100 to 150 persons)

Regular booking charge £19 per hour.
Occasional booking charge £21 per hour.
(Price includes the use of the kitchen)


Garden Room (maximum of 50 persons)

Regular booking charge £14 per hour.
Occasional booking charge £15 per hour.
(Price includes the use of the kitchen)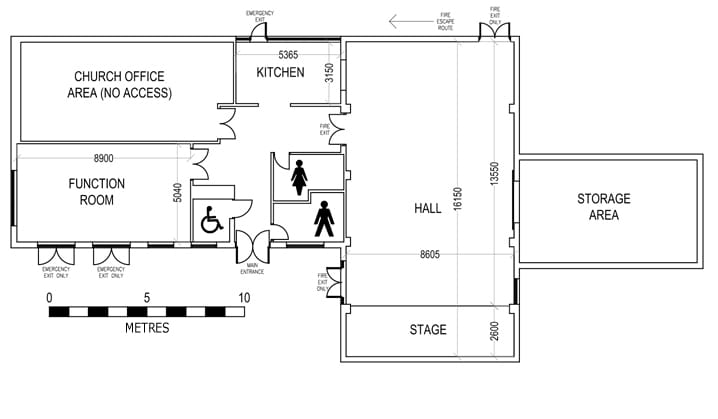 Access & Security

Easy access for the disabled and attractive location in the town with good car parking on the premises and in adjacent streets. External areas are well lit at night.

For further information please contact the Parish Office.

Parish Centre Gallery

Click on a thumbnail below to see a larger image.