St Matthew's Parish Centre
Available for hire

These are excellent premises, opened in 1968, owned and used by St Matthew's Church. We offer well-heated rooms with tables and chairs. There is a
fully-equipped kitchen. A programme of modernisation is in hand. A toilet for the disabled and baby changing facilities are available.

Our premises are suitable for a variety of purposes during the day and evening, including such activities as yoga, dance, society meetings and lectures.
Arrangements can be made for social events and
parties (but not discos). The grassed area may also be used for outside events. Please come and look at our building and you will receive a warm welcome.

Facilities

Large Hall (100 to 150 persons)
Regular booking charge £18 per hour
Occasional booking charge £20 per hour
(these charges include the use of the kitchen)

Garden Room (maximum of 50 persons)
Regular booking charge £13 per hour
Occasional booking charge £14 per hour
(these charges include the use of the kitchen)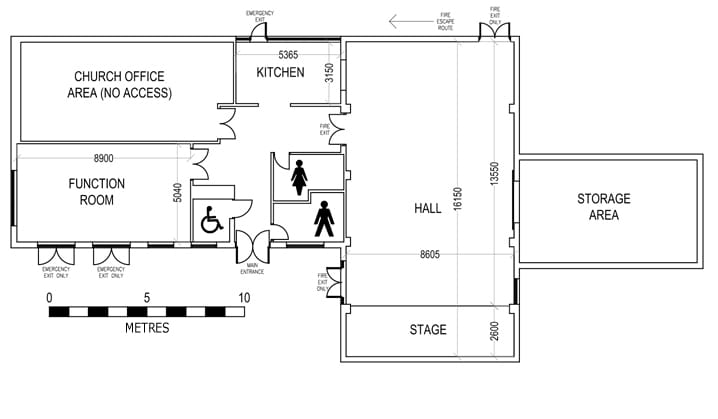 Access & Security

Easy access for the disabled and attractive location in the town with good car parking on the premises and in adjacent streets. External areas are well lit at night.

For further information please contact the Parish Office.

Parish Centre Gallery

Click on a thumbnail below to see a larger image.

| | | |
| --- | --- | --- |
| | | |
| | Find information about the Parish Centre and the facilities that are available for hire. | |
| | | |
| | Read about St Matthew's Ladies Group. | |
| | | |
| | | |
| | Read about the fundraising the took place in Christian Aid Week 2019. | |
| | | |
| | Read about the Summer Fete held on the 14 July 2019. | |
| | | |
| | Read about our Parish Administrator, Kate Arch's, fundraising efforts | |
| | | |
| | Read about St Matthew's involvement with Ride+Stride. | |
| | | |
| | Read about this year's Christmas Fayre. | |
| | | |
| | Read the latest news article report about Carol Singing in the Community | |